Back issues
No 1605 1st March 2022
Not Putin but Western imperialist crisis the warmonger in Ukraine, forcing (belated) defence of the eastern provinces after 8 years' murderous bombardment killing 14,000. Propping up Kiev's Nazis has produced a deluge of sick and upside down propaganda more depraved than any yet seen, pumped out by a cynical and knowing media which will have to answer one day for gross lies and emotive reaction. Censorship and Internet shutdown show supposed defence of Western "freedom" and democracy to be a giant lie – and try telling the Palestinians, Chagos islanders, Yemenis and Afghanis about "self-determination". Backward and idiotic Great Russian nationalism is no answer either to the great Catastrophe which demands revolutionary overthrow of a has-been capitalism. But defeat for the West by any means to open the way. Leninism vital
The Russian "invasion" of Ukraine has been triggered entirely by Western imperialism, driven to war by its Catastrophic crisis collapse.
It follows a string of wars since the bombing of Serbia, Afghanistan and the 2003 invasion of Iraq and is part of the drive to World War Three which capitalism needs to escape its disastrous economic breakdown, about to plunge the world into the greatest Slump in history.
For all that, notionally, Russian president Vladimir Putin made the first move, the conflict is actually an attack by the West, the calculated outcome of Washington-led imperialist belligerence, warmongering and intimidation forcing the hand of bonapartist Moscow.
The Russian action is a defensive war against both general and specific Western aggression and NATO build up – just as the Pearl Harbour attack by Japan in 1941 was the forced result of years of "containment" blockade and economic provocations by the USA and Britain (without implying at all the Putin is the same as then rising and aggressive Japanese imperialism).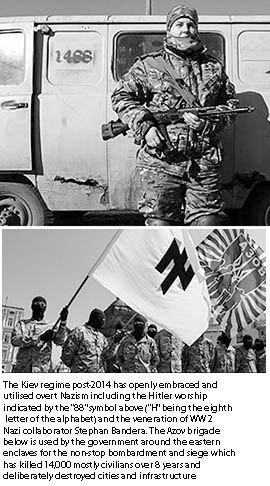 In specific terms this war is an extension and escalation of a Western onslaught which began eight years ago with the 2014 counter-revolutionary EuroMaidan "colour revolution" coup, installing an outright fascist government which has since killed 14,000 people in the east of the country and without any cessation in sight.
In its particular details it can be traced back even further to the skulduggery and subversion of 2004, with the West attempting to steal the election then, (EPSR 1259 30-11-04) and to a decade-long $5bn Washington-funded subversion following on, to build up the Western orientated petty bourgeois layers, particularly on the West side of the country, and their opportunist ambitions to join up with the European Union, bedazzled by the supposed "prosperity" and consumerism of the West, and ignoring the tyrannical Third World sweatshop and plantation exploitation which sustains it.
More. Its escalation is deliberate by the West.
It is inseparable from the enormous and terrifying build up of NATO troops and nuclear-capable weaponry all along the Russian border.
Intimidation has been escalated in the recent period by an ever growing increase in NATO placements in fascist-minded regimes of the once-Soviet camp countries (also cultivated and encouraged by Western intelligence and support), the clerical fascists in Poland and the poisonous SS worshippers in the Baltic states, who shared in the CIA warcrime torture programme around Iraq and Guantánamo:
A menacing steel barn outside the Lithuanian capital of Vilnius where CIA terror suspects were once held in solitary confinement, subjected to constant light and high-intensity noise, is soon to go on the market.

The government's real estate fund, which handles assets no longer needed by the state, said on Monday it was preparing to sell the notorious former "black site", known as Project No 2 or Detention Site Violet, for an as-yet unknown price.

Part of Washington's secret "extraordinary rendition" programme – in which suspected Islamist militants from conflicts in Afghanistan and Iraq were captured and held in jails outside the US – the 10-room building served as a detention centre in 2005 and 2006.

In its windowless and soundproofed rooms, "one could do whatever one wanted", Arvydas Anusauskas, who led a Lithuanian parliamentary investigation into the site in 2010, told Reuters. "What exactly was going on there, we did not determine."

"We don't push any buttons, so as not to turn anything on by accident," an employee of the real estate fund said of the facility, where fluorescent lighting and the hum of air conditioning dominate the now-empty rooms.

The European court of human rights heard in 2018 that prisoners at the site, used as a training facility by Lithuania's intelligence service from 2007 until 2018, were shaved on arrival and blindfolded or hooded, with their legs shackled.

The detainees who were brought there had also been subjected already to so much "enhanced interrogation" – the CIA's euphemism for torture – that many had been "all but drained of actionable intelligence".
Numerous counter-revolutionary stunts have been part of the buildup, such as the fraudulent "democracy" protest against Moscow ally Belarus, provocations inside Russia and non-stop belligerent and inflammatory rhetoric against them both, colouring all world events, even down to sour hypocritical vilification over the Olympics and non-stop subversion inside Russia, whipping up hugely exaggerated allegedly pro-Western democracy "protest".
Ukraine is not only an attack on Russia.
The obvious hatred of the West for Putin's limited, nationalist refusal to allow free rein to Western monopoly exploitation of the country's gigantic resources is only a small part of the story.
The real purpose is far broader and more general than that, namely to drive the planet to all out war to get the imperialist ruling class off the hook of its disastrous Catastrophic breakdown, the surfacing of the long brewing crisis of the world capitalist system which hit its historic buffers in 2008-9.
It has been paralysing the ruling class more and more ever since.
In America, the dominant world power, the crisis-induced fragmentation and floundering of the ruling class is ever more pronounced, especially with the Trumpite reaction and now the hopeless "Joe" Biden presidency, the latest expression of its loss of control as domestic turmoil and discontent rapidly deepens.
The ruling class desperately needs to take attention from the disastrous defeats and setbacks of the last year, to cover up the rapidly intensifying inflationary disaster and the mess of revolt and hatred it is facing, not just at home but in the world.
Problems multiply for all its world exploitation but are most extremely expressed in the humiliation of its forced retreat from Afghanistan and the vicious "collective punishment" now imposed by deliberate confiscation of Kabul's national funds creating horrific inhuman famine and poverty, killing tens of thousands, and potentially millions, from hunger and cold this winter.
In the US stooge Britain, the ruling class is even more on the ropes because of the crisis, desperately needing to distract attention from a tide of financial, sexual and establishment sleaze and crude profiteering engulfing it politically and its pompous, pointless and parasitically expensive Royal circus.
The uselessness, arrogance and callous indifference of the ruling class has never been more exposed as the crisis cuts the ground from under its feet.
It also needs to head attention from the oncoming economic implosion, caused by capitalism alone and brewing long before the additional problems of the Covid pandemic.
Before further exploring the general catastrophe, the tidal wave of outright Goebbels lies about "democracy, freedom and self-determination" needs to be taken on, and the breathtakingly hypocritical and ludicrous pretence that the West is "standing up to dictatorship" (having blitzed half the world into the floor over the last 30 years – on top of non-stop war and massacre tyranny over the Third World since the end of the Second World War including the all-out horrors of Vietnam, North Korea and the 1965 slaughter of 3 million "suspected communist" Indonesians, among many others).
The sick pretence that this war is about a hapless and vulnerable little nation being bullied has produced a deluge of the sickest lies and brainwashing propaganda ever witnessed to stampede and fool public opinion (so far successfully, thanks to decades of fake-"left" anti-communism and "democracy" delusions).
The obscene disinformation poured out by the West presenting the war as "unprovoked aggression" by Moscow, and Putin as a latter-day Hitler is the most vile Goebbels BIG LIE itself on par with the Nazi attacks and brutal reprisals in the 1930s and World War Two, frequently blamed on the victims themselves for "daring to resist".
It turns reality upside down and black into white.
First of all the myth of a "democratic West" doggedly standing up to the tyrannical Adolf Hitler is a grotesque distortion of reality anyway.
The long history of imperialism by the leading colonial powers like Britain, France, the Netherlands, Spain and Portugal contains far more atrocity, torture, mass slavery, and outright genocide than the German Nazis ever achieved, wiping out dozens of nations in the Americas alone, many more in Africa, Australia and on into Asia, and leaving a legacy of arrogant racist contempt that poisons minds to this day.
And then none of these leading imperialists resisted the rise of Italian fascism or Nazism in Germany throughout the 1920s and 1930s; not only effectively condoning it but actively encouraging its aggression, turning a blind eye to expansions like the Rhineland re-occupation, the Austrian Anschluss, the fascist backing for Franco in the Spanish Civil War and eventually the occupation of first Sudetenland and then all of Czechoslovakia.
That was not really "appeasement" but deliberate manipulation of the rising war atmosphere all the imperialists needed as the capitalist system ran into its last great crisis, the Great Depression of the 1930s.
The aim was to turn the "aggressive" Axis powers onto the rising Soviet Union and the ever greater attraction of its socialist successes for the working class.
All of imperialism was up to its neck in fascism in other words, (whether expressed in jack boot theatricality or not), an unspoken unity broken only by the clever diplomacy of the 1939 Molotov-Ribbentrop Pact which turned German aggression initially onto weaker Western powers, buying time for the Soviet Union to further develop its industry and move it back to safety in the Urals, away from the onslaught it knew was coming eventually:
Hitler-German imperialism was egged on all the way by monopoly-finance capital, both inside Germany and beyond, as a classic 'bulwark against communism'; and Western political appeasement gave fascist aggression a virtual open door all the way to Munich 1938 and beyond, selling out Ethiopia, Spain, Austria, Saarland, Sudetenland, Albania, etc, so as to deliberately set up a German imperialist invasion of the Soviet workers state; a monstrous warmongering stunt which blew up in the West's faces when the Nazis shrewdly decided in 1939 that West European degenerate state leaderships (full of Quislings, Vichyites, appeasers, and pro-fascists of every description) were easier pickings than the USSR.[..]

To pretend now that any capitalist-imperialist regime that has ever existed, or will ever exist, has the slightest interest in suppressing completely all so-called 'fascist' methods of political agitation and control is just suicidally naïve, and treacherous to the working class in the extreme (EPSR 1098 17-07-01).
Secondly, in this war the modern Nazism is clear: the regime in Kiev, leveraged into power by a CIA coup in 2014 and with the obvious and clear purpose of suppressing any revival of communism and particularly to help hem in the former Soviet Union in case of any further Bolshevik revival sentiment emerging beyond the halfway house bonapartism of the idiot Greater Russian nationalist Putin balancing between oligarch thugs and mass nostalgia for Soviet times (potentially revolutionary).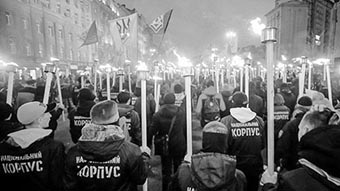 The result was a country run by a bunch of outright fascists complete with intimidating torchlight night parades, SS insignia and Hitler worship, and assorted outright massacres (infamously in burning a trade union building in Odessa soon after Maidan, killing dozens) to suppress working class resistance, all supported by an opportunist and deluded middle class desperate for the fantastical "benefits" of the consumerist West.
Their demented Ukrainian nationalism is pure reaction, harnessed totally to the service of monopoly capitalist interests and itself a crude suppressor of "national self-determination", violently putting down the Russian-speaking eastern regions with a policy of censorship and forced "Ukrainisation" (forbidding the Russian language and declaring sympathy for Russian identity illegal, shutting newspapers and TV stations and demanding Ukrainised education etc).
Even some otherwise barmy reaction in the bourgeois press can see this much through the storm of biased propaganda pouring out:
If the BBC found a group of neo-Nazis among some student Tories, or among Trump supporters in the USA, they would surely tell us about it, hot and strong.

Quite right too. In fact, the Corporation's horror and disgust at such people is one of the few things I absolutely share with them.

So why did they last week repeatedly broadcast an entire news item, featuring a group of undoubted, shameless neo-Nazis, actually wearing SS insignia on their clothes – and not even notice?

The film starred a sweet old great-grandma, Valentina Konstaninovska, in the Ukrainian city of Mariupol.

She was getting lessons from soldiers in how to fight off the Russians with an AK-47 burp gun. Pictures of the doughty 78-year-old also featured in several newspapers last Monday.

But it was only in the film that you could see the shoulder-flashes worn by the soldiers. These display a sinister, jagged symbol called the 'Wolfsangel'. This is an explicitly Nazi emblem, originally used by Hitler's 'Das Reich' Waffen SS division.

This unit is still famous for murdering 200 people in Serbia, for a massacre of 920 Jews in Minsk, now in Belarus, for hanging 99 people in retaliation for French Resistance operations in Tulle.

But above all it is notorious for the mass murder in the French village of Oradour-sur-Glane, in which the SS men machine-gunned or burned to death 642 civilians, including women and children. The Wolfsangel can be seen in archive pictures of the Das Reich division's tanks.

The patches worn by their Ukrainian fans also carry the word 'Azov' and so proclaim that they are members of the 'Azov Battalion'. Who? An FBI investigator said in 2018 that the Azov Battalion was a 'paramilitary unit… known for its association with neo-Nazi ideology and the use of Nazi symbolism'.

Its defenders now bleat that it has been absorbed into the Ukrainian National Guard. This was the pathetic excuse offered by the BBC when I asked them how they had come to fail to report the truth. Bilge.

If these men are permitted to wear this repulsive, shameful badge it is easy to work out who is the boss in this relationship. If they were even slightly under the control of civilised people, they would certainly not be allowed to do so, even if their shaven heads were still full of poison and filth.

No proper army would have them at all, even in the direst need. Is it really possible that, in the BBC's vast and costly apparatus of reporters, editors, producers, fact-checkers and bureaucrats, not one person spotted the problem? If so, we are dealing with Olympic-level incompetence. But it is my suspicion that something else is going on. The generation that kept the BBC relatively impartial is fast dying off. Those who remain have accepted a large number of contentious opinions as facts.

One of these opinions is the ridiculous cartoon idea that Russia is like Mordor in Lord Of The Rings, an utterly evil country ruled by a Dark Monster. And that Ukraine, its current enemy, is by contrast a shining Utopia, pluckily defending itself against the orc-like hordes of Moscow. This explains why the BBC were so keen to use this film, in which a Brave Granny Gets Her Gun. 'Brave Granny Gets Her Gun From Some Neo-Nazis' is not quite the same, is it?

One of the roots of the Russia-Ukraine problem is, alas, the existence of some very crude and nasty factions of Ukrainian nationalism, many of them unblushing neo-Nazis. Of course there are plenty of perfectly civilised Ukrainian patriots, but bigoted racialist thugs have an influence way beyond their numbers in that country.

That is why so many Russians living in Ukraine have often felt excluded and have yearned to be ruled instead from Russia.

And that explains a lot of other things now going on.

Ukraine is, in fact, much like Russia in its corruption, political sleaze, oligarchs, dirty money and dodgy politics. It is not especially free and the rule of law is absent. And, as you now know in detail, there are quite a few Nazis. If we are going to interfere in this very complex problem, then we are going to need to tell each other the truth about it.
Peter Hitchens, Mail on Sunday writer is hardly pro-communist and his belief that anything the state-run BBC propaganda tool says at such moments is truthful is naïve, but he adds a week later that:
[...]Since 1992, they have thought it wise to treat Russia like a beaten dog. The inventor of that policy is the American neo-conservative politician Paul Wolfowitz. He just happens to be the architect of that other great disaster, the Iraq War.

The New York Times in March 1992 reported the existence of a Pentagon document, believed to be the work of Mr Wolfowitz. It said that from now on there should only be one superpower. It stated 'Our first objective is to prevent the re-emergence of a new rival, either on the territory of the former Soviet Union or elsewhere, that poses a threat on the order of that posed formerly by the Soviet Union.'

The suggestion was ridiculous. The former Soviet Union was at that time a bankrupt mass of scrap metal, rust and corruption. I was there, I know. Once the dust settled, it would find itself with an economy the size of Italy's, and an ageing, ill, diminishing population. The Communist ideology which had driven its expansion and aggression was dead.

Yet here were senior American political figures, planning further humiliation. The outcry over this dangerous language caused a hasty rewrite, and when the document was published it had been greatly toned down.

Yet within a few years, under Bill Clinton, and supported by expensive lobbying by US arms manufacturers, the USA began the eastward expansion of Nato.

Since then Nato has never said who it is defending its members against – because such an admission would be an act of aggression in itself. But it can only really be explained by a desire to keep Russia down. For what purpose?

I have never seen any attempt by anyone to reply to the urgent condemnation of this decision, made in 1998 by one of the greatest diplomats who ever lived, George Kennan. Mr Kennan, inventor of the successful strategy of 'containment' of the Soviet Union, came out of retirement to protest.

He said Nato expansion was folly, and correctly predicted it would create nationalist backlash in Moscow. Did the neo-conservatives who created this policy really think Russia, with its huge intelligence services and vast, sophisticated foreign policy establishment, would not notice that it was being targeted?

Russia guards its interests, as do all nations, just as rain falls downwards and water is wet. Out of this realisation came Vladimir Putin, the direct consequence of the Wolfowitz doctrine. We created him.
Other than his "bankrupt" sneer, – (so how did it maintain the "huge" intelligence service etc?) – these correct observations make the point, without continuing the rest of Hitchen's reactionary diatribe, equally driven to a war frenzy but which wants the West to attack China instead.
But even these partial quotes illustrate that this petty bourgeois has a better grasp of the world than most of the fake-"left", understanding that China is still a workers state (which is why he frets so) despite the Beijing leadership's revisionist befuddlement and failure to understand the capitalist crisis and its revolutionary implications.
Putin is even more befuddled, sitting in the Kremlin with his Greater Russian nationalism, his continuing belief that there is any kind of a future in a restorationist capitalist country dominated by gangster oligarchs (who have plundered and robbed from the working class the staggering achievements of the 73 year long Soviet Union to spend them on football clubs and $700M superyachts) and above all his idiot statements decrying namesake Vladimir Lenin's historically unprecedentedly brilliant philosophical and political leadership (especially on the national question) the fruit of the Bolshevik party struggle for understanding and constant polemics.
But Putin's assertions of the need to "denazifiy" the nest of vipers running Ukraine, and to bring to a halt its belligerence and hatred, is one of the sounder statements he has ever made.
Far from being "isolated and deranged" as he is painted by the Western pysops defeatism propaganda poured out into a compliant Western media machine, (reproducing every Goebbels word and hysterical "warcrime" accusation without criticism or even checking to see if there are any bodies at all), his assessment is correct, albeit falling far short of the real need to re-establish Leninist workers states (self-determining) both in Ukraine and Russia.
His past interventions have been crude, grossly violent and, in suppressing the Chechens and rising "terrorism" in the world, simply wrong, apeing the worst of imperialism itself (see for example EPSR 1247 on the justified struggle of the Chechens against oligarch domination).
But on the Ukraine he has more justification – and is correct in berating his own regime's failure to act at least six years ago when the Kiev Nazis treacherously tore up the Minsk II Agreement for cultural autonomy in the Russian majority eastern zones, breaking the ceasefire by shelling and attacking the provinces of Lugansk and Donetsk which had refused to accept the ascension of the outright Nazi regime in Kiev (demanding the very self-determination which the lying hypocrisy of the West pretends it is sustaining).
As debated last issue such justification does not remotely imply that the working class has an interest in supporting Putin as such – solely that in the balance of class forces in the world the Russian Federation is by far the lesser power and in this situation the interest of the world's masses lies in seeing the main enemy defeated and humiliated.
That enemy is not the correctly described "puppet stooges" in Kiev but the string puller itself, the American Empire and the imperialist allies which are lined up alongside (for the moment and only after substantial bullying and international arm twisting).
In fact the Russian working class still needs a return to its brilliant Soviet past, minus the revisionist retreats and philosophical errors under Stalin which ripened into the eventual Gorbachev liquidation and which find even more rotten expression in Putin's own philosophy (and even in the ponderous woodenness of the still continuing Russian Communist Party).
But in the teeth of the demented world aggression around Ukraine the main enemy needs to be the focus and the domestic class struggle against Putinism needs to wait, just as was needed in revisionist nationalist Slobodan Milosevic's Serbia in 1999 and in Iraq in 2003, not giving one ounce of credibility to the thuggish former US stooge Saddam Hussein but holding off the fight while battling to defeat the direct imperialist onslaught.
Ditto for Gaddafi in Libya and Assad in Syria.
This is fundamental Marxism as explained by Lenin in August 1917 in the fight against the reactionary General Kornilov's coup attempt to restore Tsarism, which meant deferring temporarily the proletarian revolutionary overthrow of bourgeois prime minister Kerensky (another part of Lenin's superb strategic and tactical grasp which every Marxist should study).
Even more they should study the crisis basis of this monstrous and hypocritical war waged by imperialism against the world working class.
And the first part of that is to understand Ukraine as only the latest episode in a much broader 25 year period of Western warmongering and blitzing dragging the world into World War Three, beginning with the monstrous and lying NATO bombing of Serbia in 1999, (again after ten years of imperialist skulduggery and deliberately fostered civil war and balkanisation (EPSR No 992, 1000, 1006 and many more)) and continuing non-stop.
Half a dozen countries have been bombed and pulverised to utter destruction in the Middle East since, including utter horror of the war in Yemen killing and starving millions, as well as Afghanistan and in Africa and many more strangled by sanctions, blockades and CIA fostered violent middle-class "revolts" inflamed when they can be into all out civil war (as set going in Venezuela, Egypt, Syria,etc and attempted in Hong Kong, Myanmar, Sudan and Ethiopia among others).
Not "just a few" civilian casualties have been caused by accident (if this is true at all in Ukraine) as a Russian spokesman was able to point out in one of the very rare interviews allowed through the barrage of lying TV "news" (to pretend some kind of impartiality) but hundreds of thousands – and he should have said in fact millions, – casually, callously and often deliberately butchered by the West, "taking out" as many surrounding civilians as deemed "necessary collateral damage" in bombing raids, drone and missile attacks, not to mention in cities like Mosul and others in Iraq, and Raqqa in Syria completely pulverised by Western and Western stooge onslaughts (which, shamefully, Russia has partly joined in).
Against allegations that the Russian action so far has killed civilians, (such as the outright lie of "cluster bombs" being used, based on no evidence other than film of some explosions in the far distance) he rightly declared that nothing seen in the deliberately hyped up "human agony" stories was proof of any such thing – and that whatever tragedy might have happened IF there has been accidents, it was grotesque hypocrisy by the West to pretend these were somehow systematic.
But utterly cynical slaughter and butchery by the West has gone on for two decades of non-stop drone warfare, "war on terror" bombing and death squad killings, and blitzing throughout the Middle East and the Sahel in Africa, in civil war set running in Ethiopia, in Somalia, and Myanmar.
Libya was completely destroyed by NATO blitzkrieg and remains a civil war shattered mess to this day.
Egypt's own mass uprising in 2011, the Arab Spring, establishing a new democracy after the toppling of the reactionary dictator Hosni Mubarak, was toppled by a brutal counter-revolution organised by Western and Zionist intelligence in 2013, creating a barbaric regime of torture and repression to suppress revolution:
A video obtained by the Guardian appearing to show Egyptian police torturing detainees in a Cairo police station confirms the extent to which officers appear able to inflict violence on civilians with near total impunity, according to human rights groups.

The video, covertly recorded by a detainee through a cell door, appears to show two inmates hung in stress positions. The detainees are naked from the waist up and suspended from a metal grate by their arms, which are fastened behind their backs.

"Watch how they are torturing us and our colleagues. They came and told us we're next," one detainee says. Addressing the Egyptian president, Abdel Fatah al-Sisi he says: "Mister president, we want to ask why the police in el-Salam First police station are doing this to us."

The video is one of two believed to have been recorded in November last year inside a police station in the working-class el-Salam neighbourhood of northern Cairo.

In the second, which the Guardian is not showing to protect detainees' identities, inmates in an overcrowded cell line up to display injuries they say were inflicted by police officials and investigators, including open wounds on their heads and bruises across their chests and backs. "They are hitting us with sticks," they say.

Humans rights groups said the videos are visual evidence of widespread abuses that they have been documenting in police stations and detention centres across Egypt for the past decade.

The videos surfaced nearly 12 years after the death of Khaled Said, a 28-year-old civilian, in police custody in Alexandria in June 2010. Said's death proved to be a watershed, inciting public anger at the impunity of security forces and their treatment of Egyptian citizens, and sparking the protests that began on 25 January 2011, a national day traditionally honouring the police force. The 18 days of nationwide protests that followed ended the decades-long reign of autocrat Hosni Mubarak, where abuses by security bodies were widespread.

Yet 11 years after the uprising, testimonies and evidence collected by rights groups allege that abuses by Egypt's security services are once again out of control. Since coming to power after a military coup in 2013, Sisi has presided over a renewed era of impunity for security forces, down to the lowest ranks of the police.

Despite a clear prohibition on all forms of torture in Egypt's 2014 constitution, trials and convictions of security officials for torture or deaths in custody remain extremely rare, while abuses are regularly documented. Domestic organisations monitoring torture and abuse in detention now struggle to continue their work, amid a prolonged crackdown on civil society activity.

"Police stations are even worse than prisons," said Aly Hussin Mahdy, a former detainee and now exiled activist, describing his experience in detention. "The revolution happened because of this, and 11 years later we see it happening again."

Amr Magdi, an expert on Egypt at Human Rights Watch [..] said that the detainees' injuries...are consistent with documented examples of torture in detention centres. "They all show signs of severe beatings, and they mention batons and wooden sticks which are routine torture tools," he said.

.."We know that most physical torture happens in police stations and secret NSA [National Security Agency] detention centres during the initial days or weeks after arrest, and before detainees are taken to larger prisons," he said.

Human Rights Watch... describ(es) the issue as a potential crime against humanity. A report cites 19 individual cases where detainees "were tortured in police stations and national security offices across the country, including Alexandria, Aswan, and cities in the Nile delta". For some, torture occurred in multiple places of detention.

"The basic tools of torture were electrocution and stress positions, accompanied by beatings with fists, wooden sticks or metal bars," they said.

Police and NSA officers "handcuffed suspects' arms behind their back, pulled up their arms, placed their handcuffs over the top edge of a door, and hung them above the floor, an unnatural position that caused excruciating pain in the back and shoulders, sometimes dislocating them. Some officers pulled suspects' legs downward to increase the pain," they said. They added that detainees were often left in stress positions for long periods.

Rights groups have also documented frequent deaths among those detained. In 2015, Amnesty International provided evidence of at least nine deaths in custody in the Mattareya police station in Cairo.
Sanctions?? International "human rights" trials. ??
No, massive US subventions and aid.
Egypt is a vital part of keeping control in the Middle East in collusion with the Zionists in occupied Palestine where one of the most persecuted populations of all has for 70 years been continuously bullied, beaten, humiliated, harassed and repeatedly subject to torture, arbitrary imprisonment, brutality and assaults, dispossession, house demolitions, well poisoning, deliberate farm destruction and sometimes random killings and assassinations.
All of that never stops being part of daily life for simply continuing to exist on a tiny fragment of their own stolen country and continuing to resist the occupation and confiscation of farms, olive groves, houses, properties and businesses.
On top of this daily repression the Zionist occupation of their land, which still receives huge political, military and civil support and subvention from America imperialism, regularly and repeatedly inflicts far more deadly bombardments and blitzings, killing and maiming hundreds and reducing buildings and streets to rubble.
Not a word of "self-determination" principles are ever heard about this benighted people, some 8 million or so, forced to live in stinkhole refugee camps in the countries around the Middle East or in the concrete hellhole of the Gaza strip, where 2 million people are crammed into a tiny space with only erratic electricity supplies, and wrecked or inadequate infrastructure like hospitals and particularly the sewage system able to operate only a few hours a day, leaving appalling unsanitary conditions facing everyone and polluting the beaches providing one of the only recreational facilities the crowded mass have got.
This Zionist occupation also blitzes and raids Syria next door on a routine basis, just recently killing half a dozen in a bombing raid, and continues to mount a slow motion war of bombing and shipping attacks on Iran as part of Western imperialist bullying and intimidation against Tehran to prevent it developing not just nuclear weapons but even nuclear power of its own.
Such outrageous bullying is exactly the "might is right" arrogance which the colossal hypocrisy of the Western world is currently accusing Russia of wielding and in complete contradiction to any supposed "self-determination" principles.
Why should a giant country like Iran not properly build up its own defence forces like any other country, and with nuclear weapons too if its sees fit, just like those the Zionists developed at least 40 years ago and hold in contravention of "international law" and United Nations resolutions and principles, not only without any effort to enforce them but without a murmur from the "outraged" Western press and politicians currently demanding the "suspension of Russia from the Security Council".
Doubtless it will be replaced by the thug sheikh regime of Saudi Arabia, the journalist killer regime which has already chaired the UN human rights council.
What "freedom of the press" do they show??
Sickest of all is the monstrous collective punishment being imposed on Afghanistan, deliberately leaving the country bankrupt, following the defeat of the Western occupation by the Taliban resistance:
The temperature is dropping to below zero in western Afghanistan and Delaram Rahmati is struggling to find food for her eight children.

Since leaving the family home in the country's Badghis province four years ago, the Rahmatis have been living in a mud hut with a plastic roof in one of Herat city's slums. Drought made their village unliveable and the land unworkable. Like an estimated 3.5 million Afghans who have been forced to leave their homes, the Rahmatis now live in a neighbourhood for internally displaced people (IDP).

There are no jobs. But the 50-year-old has hospital fees to pay for two of her sons, one of whom is paralysed and the other who has mental illness, as well as medicine for her husband.

"I was forced to sell two of my daughters, an eight- and six-year-old," she says. Rahmati says she sold her daughters a few months ago for 100,000 afghani each (roughly £700), to families she doesn't know. Her daughters will stay with her until they reach puberty and then be handed over to strangers.

It is not uncommon in Afghanistan to arrange the sale of a daughter into a future marriage but raise her at home until it is time for her to leave. However, as the country's economic crisis deepens, families are reporting that they are handing children over at an increasingly young age because they cannot afford to feed them.

Yet, selling her daughters' future was not the only agonising decision Rahmati was forced to make. "Because of debt and hunger I was forced to sell my kidney," she tells Rukhshana Media from outside her home in the Herat slum.

Afghanistan is on the brink of "a humanitarian crisis and economic collapse", according to the UN. The agency's ambassador to Afghanistan has said it is "experiencing the worst humanitarian crisis of its contemporary history". Drought, Covid-19 and the economic sanctions imposed after the Taliban seized power in August 2021 have had catastrophic consequences on the economy. Dramatic rises in inflation have resulted in soaring food prices.

The kidney trade has been growing in Afghanistan for some time. But since the Taliban took power, the price and conditions under which the illegal organ trade takes place has changed. The price of a kidney, which once ranged from $3,500 to $4,000 (£2,600 to £3,000), has dropped to less than $1,500 (£1,100). But the number of volunteers keeps rising.

Rahmati sold her right kidney for 150,000 afghani (£1,000). But her recovery from the operation has not been good and now, like her husband, she is also sick, with no money left to visit a doctor.

More than half of the country's estimated 40 million population face "extreme levels of hunger, and nearly 9 million of them are at risk of famine", according to the UN refugee agency, UNHCR. For a growing number of Afghans, selling a kidney is their only way to get money to eat.

"It has been months since we last ate rice. We hardly find bread and tea. Three nights a week, we can't afford to eat dinner," says Salahuddin Taheri, who lives in the same slum as the Rahmati family.

Taheri, a 27-year-old father of four, who scrapes together enough money for five loaves of bread each day by collecting and selling recycled rubbish, is looking for a buyer for his kidney. "I have been asking private hospitals in Herat for many days if they need any kidney. I even told them if they need it urgently, I can sell it below the market price, but I haven't heard back," Taheri says. "I need to feed my children, I have no other choice."

In the past five years about 250 official kidney transplants have taken place in the hospitals in Herat province, with a very limited number being a family member donating their organ, says Asif Kabir, a public health official in the province. The cost of a kidney transplant is 400,000 afghani, plus the price of the kidney, according to Kabir.

But the true number of kidney operations may be far higher. A doctor working in one of the hospitals where most of the transplants take place, who spoke on the condition of anonymity, says: "Recently the number of people who want to sell their kidney has increased in Herat and most of them live in the displaced camps, in Herat's slums. The customers also go to the displaced camps to find a cheap kidney."

Sayed Ashraf Sadat, a civil society activist in Herat, was a member of a delegation assigned by president Ashraf Ghani to investigate the illegal kidney trade in May 2021.

Sadat says the investigation he was part of identified two hospitals in Herat where kidney transplant operations take place; one of them said it had completed 194 operations and the other said 32, but more than 500 people were claiming to have sold their kidney, 100 from a single village in Herat. "This shows the kidneys were taken outside Afghanistan," says Sadat.

"For example, a kidney is purchased for 300,000 afghani (£2,100) inside Afghanistan, and it is sold for more than £7,500 to £11,000 outside the country," says Sadat.
The executive order signed by the Biden administration on Friday would allow Afghanistan's $7bn US-held assets, frozen when the Taliban swept to power, to be halved. One half would be held pending the outcome of lawsuits brought against the Taliban by the families of 9/11 victims who have persuaded a judge to attach their case to the Afghan assets. The other half, if courts agree, would be used for humanitarian aid. The administration's argument is that this may help get assistance to Afghanistan more swiftly, without having to await the outcome of the cases. The government can step into lawsuits to say what it believes is in the national interest, but decided that it would not object to any decision to award half the money to the families.

Though central bank funds are supposed to enjoy diplomatic immunities, it appears that the administration can act if a "recognised representative of the Afghan government" approves – raising obvious questions about who might now qualify. Whatever the legal technicalities, the moral case is clear. Afghans are not to blame for 9/11, though they have paid for it many times over. Some of the bereaved have already condemned the idea of taking Afghan money as a betrayal. Thousands of American families were devastated that day, and $7bn compensation was disbursed to bereaved relatives and the injured (many of whom faced huge medical bills); another $10bn is still being paid out. This is in stark contrast with Afghanistan, where, on the very rare occasions that the US made compensation or "condolence" payments for civilian deaths, relatives usually received a small four-figure sum.

The administration cannot claim the moral high ground because it proposes using some of the money for aid. Though most of it originally came from international donors, including the US, it is no longer theirs to spend, and some represents the personal savings of Afghans.

In any case, humanitarian relief is no substitute for a functioning, if floundering, economy. It is not merely that it raises the prospect of starving Afghans paying the salaries of western aid workers, and of a flood of food aid causing more long-term damage by crippling agriculture. The UN had already warned that the financial system could collapse within months; seizing the central bank's assets could be the last straw. It's true that those funds alone can't solve Afghanistan's underlying problems – but they are desperately needed to stave off some of the worst consequences.

Afghan experts and others have worked on imaginative solutions to restore liquidity without simply ceding control of assets to the Taliban. The problem is not a lack of means, but of will: relief is an easier political sell in the US, which is also believed to have blocked other countries from unfreezing funds. No one wants to aid the Taliban, whose primary victims are Afghans. But no one should claim the administration's plan is in the best interest of the Afghans.
All this litany of gross US depravity and barbaric destruction of course gives the lie to the capitalist pretence that once the world had "seen off" communism there would be a new world of "freedom, democracy and a climb to sunny uplands of universal prosperity".
But it also exposes the sick and degenerate Nazi propaganda, not of the Kiev fascist stooges (though that is swallowed hook, line and sinker by the world media) but of imperialism itself.
The entire system is essentially fascist whatever formal or academic "definitions of fascism" might be battled over by assorted "left" groups stuck on the notion that fascism is something other than an expression of monopoly capitalism itself, giving them cover for opportunistically avoiding the revolutionary perspective and leadership that is the crying need for mankind.
And it is being forced into ever more depraved and brutal expression of this, its real nature, the open dictatorship of the bourgeois, by the onrush of the crisis – which this warmongering is designed to hide.
No protest, reform, changes in the law, regulation or control is going to change it.
Unstoppable economic breakdown is what everyone needs to understand as the basis for the slide into warmongering and repression by a ruling class which is facing the end of its long rise and tyrannical and brutal historical domination over 800 years.
The Catastrophic failure in the monopoly capitalist order, put off from 2008-9's global credit implosion by non-stop dollar "printing" ever since, is about to break wide open again and on a scale ten times worse than ever for having been kept going with QE artificial respiration and bank bailouts (courtesy of working class taxes and wage cuts).
The ruling class everywhere is frantic with the knowledge of what gigantic turmoil is coming as the inevitable inflation lets rip and much more austerity has to be imposed, creating conditions of poverty, unemployment and hunger not only far beyond the last decade but worse than the 1930s, by an order of magnitude.
It needs war.
Bankruptcy, shutdowns, unemployment and eventually scapegoating and jingoist war – and world war at that, not simply "wars" – are the only "way out" that imperialism has ever come up with to escape the paralysing failure of it system and "solve" the intractable contradictions its heart (see economics box, Marx's Capital, Marx & Engels' Communist Manifesto, Lenin's Imperialism, multiple other works and multiple warnings in the 1600 issues of the EPSR since it was founded).
Each inevitable crisis after "recovery" is worse and, as credit has developed over the eight centuries of the bourgeois dominance, extending the overproduction of the system and stretching the "boom" period ever further, along with ever more concentrated monopoly consolidation, the needed capital wipeout "correction" has increased to insane levels.
In the monopoly capitalist imperialist epoch only the apocalyptic destruction of World War One, and then the much more widespread and intense World War Two, sufficed to destroy enough "surplus" capital (and surplus workers) built up by the overall uncontrollable anarchic "free market" (all desperately needed by the world's poor and tyrannically exploited billions but unable to "make a profit" for its "private owners" and therefore to be written off).
The already started Third World War (Serbia,Iraq, Libya, Yemen, Afghanistan etc) can only be far worse than ever seen before, not least for being deferred so long and because of the appalling levels of destructive power unleashed by modern technology, and ready to be used by the inhuman ruthlessness of the greed ridden and degenerate multi-billionaire ruling class.
But the imperialist order is having more trouble than ever dragging the world into the necessary allout mayhem after decades of lying pretences about "international rule of law, democracy, freedom and prosperity" – hence the creation of bogeymen and demonised "rogue" regimes and the deluges of black-is-white lying propaganda accusing everyone else of the warmongering that imperialism itself is creating - just as it did with the blitzing on Iraq, Afghanistan, in Yemen and half a dozen other current wars and blitzings.
A slew of complicating factors makes it hard to determine the immediate outcome over Ukraine, and how far the warmongering will go at present, not least the confidence level of an increasingly crisis-wracked Western bourgeoisie, terrified of the unpredictable outcomes, riven by trade war and split wide open domestically and internationally, despite even more Goebbels assertions of "unity and resolve".
Western bourgeois dominance hangs on not least because of the complete abandonment of any world wide grasp of all this economic and class war movement and the revolutionary perspective that can a) see the colossal breakdown of the Catastrophe, and explain it to the working class, b) develop the understanding of what must be done about it, which can only be the revolutionary overthrow of the whole system and c) grasp the real meaning of all the spontaneous world upheaval which the crisis is causing, labelled "terrorism" etc and developing the leadership to expose all the mountebanks, fake-"lefts" and opportunist shysters who keep the working class hoodwinked and tied to fraudulent bourgeois "democracy" and reformism.
The belligerent distractions have to continue, precisely to keep minds away from seeing the chaos, incompetence and incoherence of a ruling order in its historic demise, most obvious in the case of the scandal ridden British establishment, its "royal" posturing shot to pieces and its "parliamentary democracy" mired in arrogant empire delusions, incompetence, contempt and self-interested pocket-lining sleaze.
One element that becomes clearer with this crisis perspective is the conflict and antagonism between the major capitalist powers and most especially between post-WW2 topdog, the USA and the other ever-rising and revitalised competitive powers.
Obviously giant China's is one of those, its use of capitalist methods, but under workers state direction and control, having produced a staggering growth in just a few decades and one attracting massive hostility from Washington.
But so too are Japan and Europe, which have outcompeted American capitalism on an increasing scale, in ever intensifying and ever more cutthroat trade war, the major expression of the irresolvable contradiction of "overproduction" at the heart of capitalist crisis.
Europe is crucifying USA industry in critical sectors like aerospace where it has demonstrated much greater efficiency:
Airbus has announced its highest-ever profits and a return to paying a dividend to shareholders, in a sign of the aerospace industry's burgeoning recovery from the Covid pandemic.

The European plane-maker reported a record net income for 2021 of €4.2bn (£3.5bn), in stark contrast to a steep €1.1bn loss in 2020, when the pandemic first hit. The company, which is headquartered in Toulouse, France, made revenues of €52bn, up from €50bn in 2020.

The aerospace industry was one of the worst affected by the pandemic as travel restrictions led to a slump in income for its airline customers. Orders for new planes were among the first things they cancelled.

Airbus cut 15,000 jobs in June 2020, including at its UK factory in north Wales, which makes wings, in response to what its chief executive, Guillaume Faury, described as the industry's "gravest crisis".

Its US rival Boeing cut 30,000, in part reflecting the global grounding of its previous bestseller, the 737 Max, after two fatal crashes.

Airbus delivered 611 aircraft during the year, ahead of its target of 600, driven mainly by 483 deliveries of its single-aisle A320, its rival to the Boeing 737.

Boeing managed 340 during the year, although it delivered slightly more than Airbus in January 2022 as it looked to renew its previously close rivalry.

Airbus said it expected to increase production during 2022 to 720 planes.
This inter-imperialist conflict is the real basis for the US and British demand to shut the new Nord-Stream2 gas pipeline project, even more than the immediate aim of disrupting Russia's economy with its shutdown as part of sanctions.
Germany has been particularly unwilling to cancel the project, which brings Siberian gas on a route underneath the Baltic Sea, not least because it has built its economic development around Russian gas supply deals which provide at cheaper prices than elsewhere. It has an energy base which is 60% dependent on the gas supplies and shutting them off would paralyse its industry and domestic supply pushing prices even further sky high than the oncoming economic crisis inflation will push them anyway.
That raises all kinds of domestic difficulties for Berlin, imposing the costs on a population already hammered by austerity since 2009 (as every capitalist country has been).
Changing its energy dependency overnight would also be highly disruptive of the German industrial economy, which is exactly what Washington wants, alongside the benefit it hopes to get by forcing Berlin to buy supplies from America (at higher prices to boot) brought in as liquefied gas in tankers.
A bonus would be forcing mostly European monopoly investment to write off the multi-billion dollar cost of the pipeline, installed over the last few years.
For the moment the general imperialist interests of continuing world dominance have prevailed, every bourgeoisie having an interest in preventing challenges to the monopoly capitalist imperialist system as a whole.
But the deferral of the imminent licencing of the pipeline agreed by Germany in order to "punish" Moscow is not yet its outright cancellation and it remains on the table as an expression of the disunity just beneath the surface of the Western bourgeois camp, which can only re-emerge as the Catastrophe further unfolds.
Meanwhile the deluge of big lie allegations against Russia continues to swamp the airwaves with utter fabrications about "civilian deaths" and "dropping cluster bombs" for which there is not a scrap of evidence other than reporters seeing some explosion flashes far away and repeating what a Ukrainian psyops officer told them.
This "war crime" bluster has immediately been taken up and repeated across the media as if already cut and dried – underlining even further the Goebbels reality of all imperialism and its long record of outright lies from such fabrications as the German Nazi Gleiwitz radio station attack (by German troops dressed up in Polish uniforms) to trigger the blitzkrieg on Poland, to the non-existent Gulf of Tonking "attack by North Vietnamese torpedo boats" which "justified" the all-out bombing campaign starting the Vietnam War.
Bombing of little Serbia by the 600 million population NATO was also instigated by an outright lie, the fictional "Recak massacre" where bodies from a firefight (itself part of civil war fragmentation provoked over a whole decade previously by Western skulduggery) were re-dressed and moved by Albanian counter-revolutionaries in Kosovo to look like a "cold-blooded slaughter" (building on the even bigger fraud of a non-existent "Srebrenica genocide" and years of demonising lies previously about "rape camps") to launch the disgusting and barbaric bombing destruction of the Serbian revisionist remnant of socialist Yugoslavia (see EPSR No 992, 997, 1134).
That sick and brutal warm-up for general warmongering was followed by the gross BIG LIE invention of a "weapons of mass destruction" threat from Iraq for the 2003 war/occupation.
Non-stop lies about "rape squads" are also a favourite CIA gambit playing on feminist confusions and anti-communist backwardness, ready to swallow any old rubbish, (including the astounding nonsense of Libya's Colonel Gaddafi "feeding Viagra" to his troops) as part of the NATO destruction of his country along with "terrorist threats", "rogue states" and "freedom and democracy movements being suppressed" in an endless stream of CIA coordinated "colour revolutions" from Sudan to Hong Kong and the even more.
On top of this monstrous lying hypocrisy and upside down lying, comes now the increasing censorship and shutdown of information, not least in the total ban imposed on Russia Today and Sputnik in Europe and shortly Britain too but also on other sources and opinions, part of a growing repression by the capitalist state of all resistance – alongside the criminalisation of protest and peaceful resistance. Other repression grows too such as Germany just firing a Russian orchestral director because he refused to condemn Putin.
Once again, so much for the purported upholding of free speech and democratic opinion.
Such repression is not simply the exception but the slide into open expression of the bourgeois dictatorship that has always been the reality of capitalist rule.
But the fake-"left" of all shades continues to fool the working class with illusions in bourgeois "democracy", even as its pretences are being torn up in front of their eyes.
Half of them even now are keeping the illusions going in the class-collaboration of the Labour Party, even as it increasingly shows its true colours as a complete stooge for imperialism – having knifed the "left" Labourites in the back with the long, dirty and preposterous "left anti-semitism" lie campaign, it is now abandoning all pretence of working class politics and even dropping its faux-outrage about Covid parties, environmentalism, and government sleaze.
Instead it is falling over itself to outdo even the hate-filled jingoism of the Tories with hair-raising warmongering hysteria, berating Boris Johnson for not being reactionary enough (!!) while wrapped in more Union Jacks than the Tories can prop up in their press conferences. trying to drag the working class into deadly chauvinism.
This sick reaction underlines the point made long ago by the EPSR that the Labourites would themselves spawn the showman fascism of the future, just as Oswald Mosley did in the 1930s, breaking away from a Labourite ministerial role to form the Blackshirt movement. But historical conditions are vastly different now and these sick moves giveaway just what reactionary wretches the Labourites are, including the posturing "lefts" like Diane Abbott and John McDonnell, all cravenly withdrawing their names from a "Stop the War" pacifist petition when their opportunist careers were threatened by Keir Starmer.
But Stop the War pacifism is essentially useless any (even if some workers are drawn in sincerely enough).
Half the fake-"left" play into imperialism's hands by their posturing about "all sides just as bad", based on Trot hatred of workers states,letting the "condemnation of Moscow stand - but the ostensibly pro-Soviet revisionists are just as disastrous, continuing the retreat from revolution has liquidated the USSR in the first place.
Only defeat for imperialism will change anything opening the way for revolution.
Build Leninism.
Don Hoskins
Back to the top